One Luminous Dot > Paris > 2015&nbsp
"As a tribute to our one and only planet, the installation refers to our galaxy in which the Earth is but one little dot. The depths of our oceans still hold many mysteries to us. Countless deep sea organisms are yet to be identified, many of which appear to have the extraordinary ability to emit light. This was the inspiration to celebrate nature with a bioluminescent light installation: a star of glass tubes holds a fluid with a special bacteria obtained from the skin of an octopus. Movement keeps the bacteria oxygenated, causing blue waves to light up.
The space might feel surreal, and the atmosphere unearthly. Yet, the light sources derived solely from our own biosphere and nature. This is to remind us to cherish the planet we live on. A planet, the beauty of which we sometimes forget. A planet we only have one of."
- Theresa van Dongen
One Luminous Dot is an immersive installation that I engineered and helped conceive with Dutch designer Teresa van Dongen. It was exhibited during Paris D'Days 2015 in the Louvre and Dutch Design Week Eindhoven 2015. The scope of the project was to develop a range of electro-mechanical motion required for the bioluminescent bacteria to oxygenate. The central piece of installation is an array of glass rods pendulums containing the bacteria in their living medium.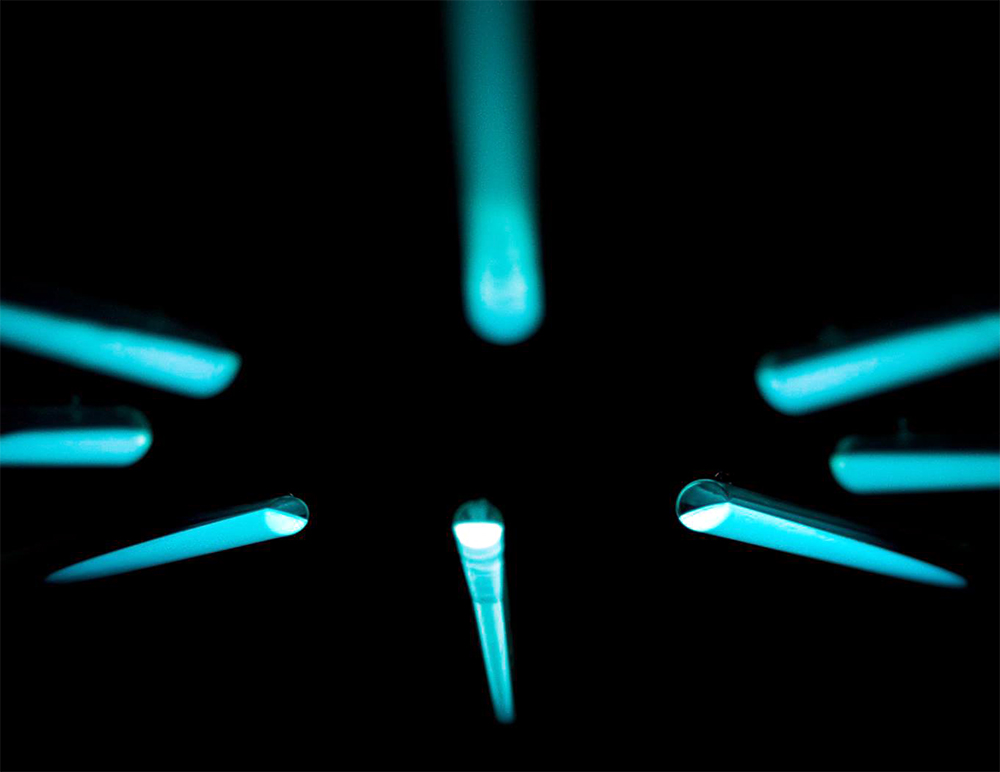 A crucial aspect of the design was to dimension the motorisation in order to gently express wave motions yet have them be strong enough to excite the bioluminescent bacteria inside the tubes without damaging the fragile cells. This required a precise selection of motor technology, matching the dynamic weight of the water as well as desired speed and accuracy of the motions.